Rick Umali and Links
When I can't play in real life (which is all too often), I play Links.
---
Me and Augusta National
Thanks to Andrew Jones, who created Augusta National for Links, I have played (virtually) this most sacred course.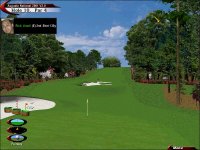 (139K)

The above is the tenth hole of Augusta National. During a practice round, from 185 feet, I holed out from the fairway for an eagle. Stunning! You can view the saved shot (use your browser to save this link) if you have Links 2001 and the Augusta National course.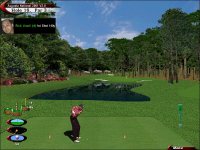 (158K)

Probably the one par-three that I want to play the most. Usually the most vocal part of the Masters on Sunday, as players are struggling to hang on, or sticking the pin to make a move. The water, the crazy green, the crowd perched up everywhere. It is awesome to be able to virtually play this hole.
---
---
Rick Umali rgu@world.std.com
Last Updated: Wed Mar 16 00:00:53 EST 2005